Our Partner is a leading company in the manufacture of industrial boilers, having at its disposal a large team of professionals in evolution and training day after day in order to use the most advanced technologies to the benefit of the teams in the phases of Construction/ Fabrication/ Maintenance of industrial processes and facilities, the main argument of the company is to offer its customers, quality and seriousness, both in its products and services.
Study and Identification of opportunities for Energy Improvement in green and clean fuel that results in cost reduction in consumption of Energy at Industrial level.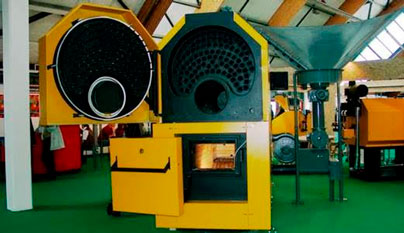 The oldest energy, fire and water, together with the most modern technologies make a journey of continuous research, discoveries and unsuspected applications. Our history and experience lead us to produce steam and/or superheated water boilers with the highest yields and the most modern and efficient management on the market. Our commitment to the future is based on trust in our products, safety, quality and serious service.
SY steam boilers for fossil fuels or biomass manufactured by our Partner range from 100 to 25,000 kg/h of production at design pressures of 4.5 to 21 bar and are available for a wide variety of applications from food, pharmaceutical, chemical, textile, etc … to applications such as sterilization or industrial cleaning.
We also manufacture fluidized boilers thermal, hot and superheated water with powers from 100 to 25000 kW and complementary equipment for any type of installation.
The dimensions of each boiler and the accessories and control systems are customized for each client according to their requirements and needs.
As a result, the boilers manufactured by our Partner offer high performance, exceptional emissions and a very high level of reliability. Automatic operation and 24 / 72 h indirect control.
In addition, the in-house designed touch screen automaton provides simple and intuitive operation suitable for both experienced operators and newcomers.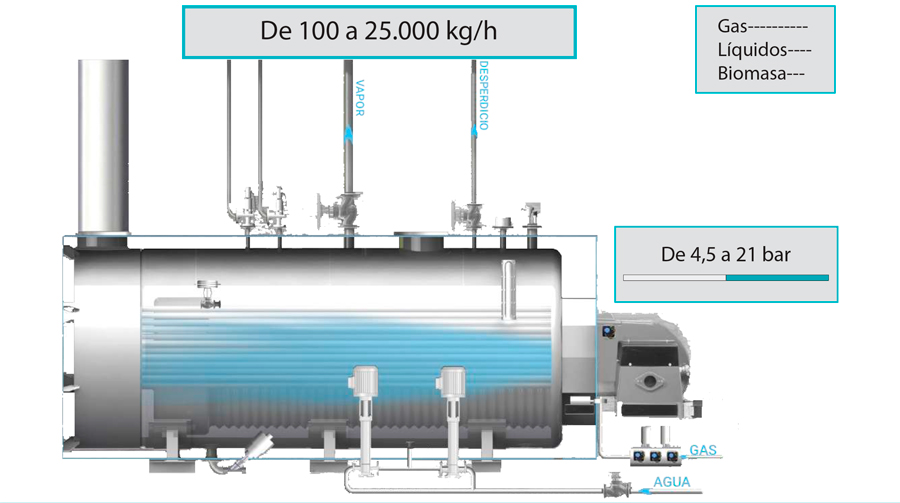 Steam production between 0.2 and 25 tons
Operating pressures up to 21 bar
Pirotubular type and defined water level
With 3 smoke passes
Possibility of installing an economizer
Tactile control panel for a more easy and intuitive use
In accordance with the European Directive of Pressure Equipment 2014/68/EU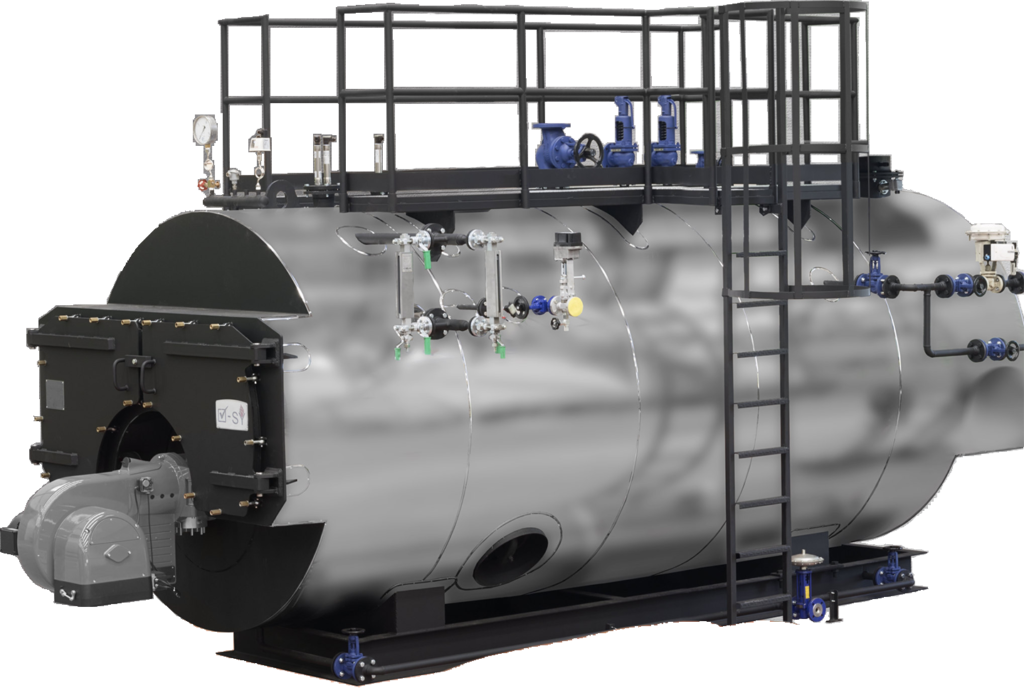 SY thermal fluid boilers are adapted to the regulations in force.
Our boilers are horizontal.
thus facilitating their handling and accessibility.
Automatic operation and indirect monitoring provide us with reliability and safety of the equipment.

A thermal oil heating system has many advantages, the main ones being the following:
Fuel savings of about 20% compared to steam systems.
A thermal fluid system consists of a closed circuit with minimal energy losses.
At least 90% of the fuel is used for its primary purpose, i.e. heat input.
Thermal oil systems are highly efficient due to the uniformity of temperature throughout the production process.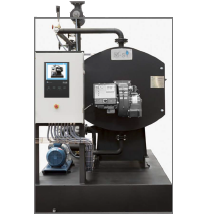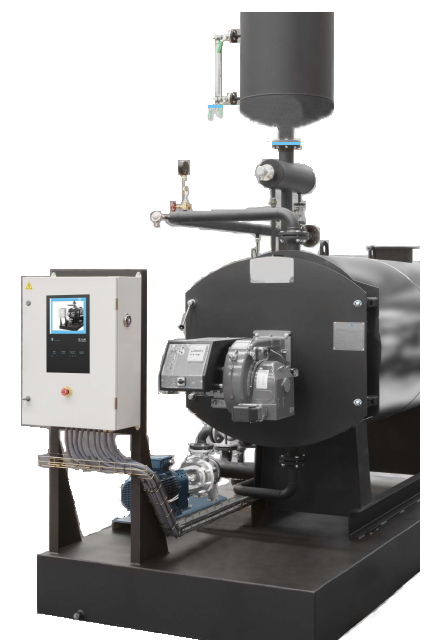 The new SY biomass boilers constitute the culminate all the experience acquired by Energesa in the use of solid fuels for steam production.
During the design process of these boilers, we had always takes into account the characteristics of the different most common types of biomass in the industry (scraps, olive pit, argan rind, etc.), resulting in a versatile design, suitable for a large amount of fuels and providing performance and levels of exceptional emissions.
SY boilers are a project made exclusively for solid fuels.
Standard models range from 2,000 to 10,000 kg/h of steam at design pressures of 9, 11, 13 and 15 bar.
All our boilers are manufactured according to with the German TRD steam boiler code and comply with with the European Pressure Equipment Directiveb 2014/68/EU obtaining the corresponding CE mark.
We carry out mandatory periodic inspections both at level A and B, as required by the Law Decree 97/2017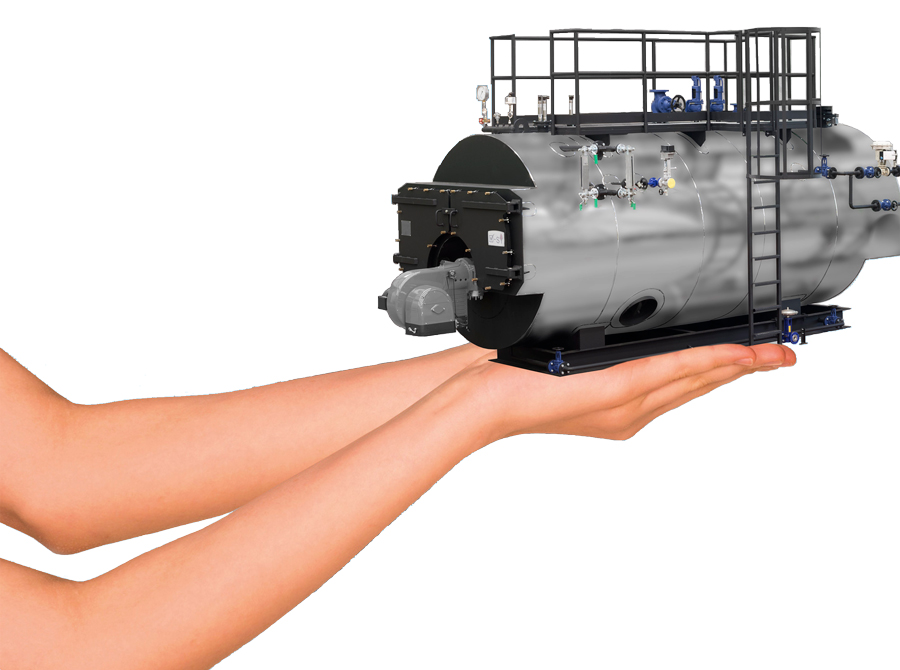 Boilers from 160 to 450 kw.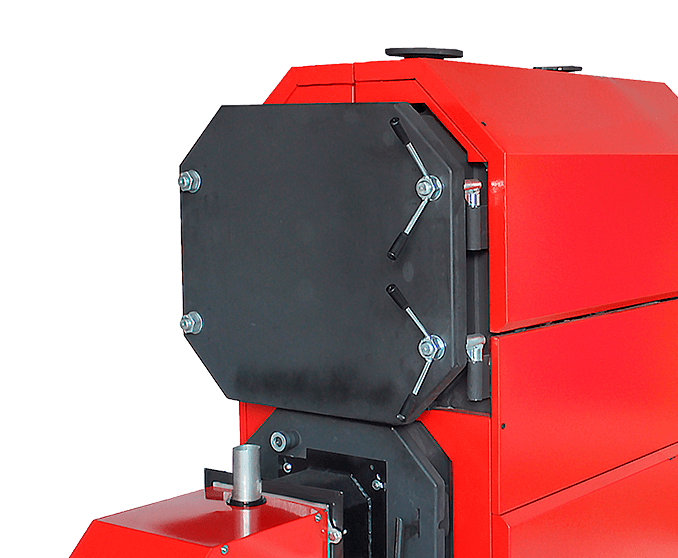 MAG steel boilers offer great powers to meet the energy demands of large spaces, thanks to their intelligent design.
MAGs are easy to transport and install.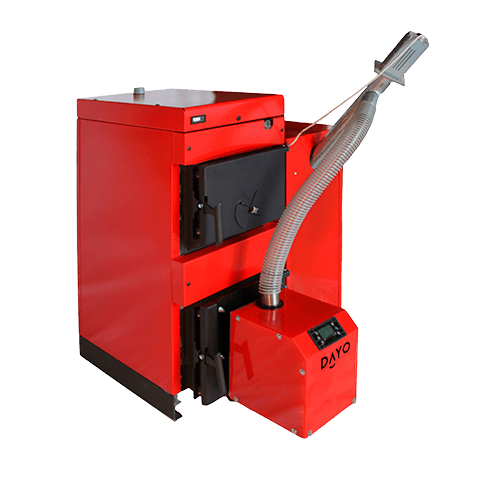 Made of refractory steel, MAG boilers are designed for large spaces such as schools, farms and other places that need great power. An easy-to-use and low-cost boiler. Its combustion is controlled through a burner.
Efficiency is one of our characteristics, that is why MAG boilers pass the combustion gases through three smoke passages , which are around three water-cooled baffles. In this way the gas transfers its energy to the boiler water. Thus, thanks to the water jacket, the heat produced can be fully utilized.